We meet up with art consultant and curator Jonas Kleerup during the Stockholm Creative Edition design festival, where he's curating the CREAM exhibition together with design agency tätatät. Lammhults is one of the platform's collaborating partners. For Lammhults, a furniture maker with an interest in experimental ways of using space, it was natural to support the initiative. The venue for CREAM is Garnisonen, a building known for its rigorously brutalist design.
We begin by walking around to get acquainted with the rather motley collection of works, all summarily presented as 'objects'. Most of the works are placed on two low stair-like structures centrally located in the stripped down, unadorned space. Architect Albert France-Lanord was in charge of the exhibition's design.
Jonas explains that the aim is not to define the works beforehand as 'design', 'craft' or 'art', but instead to let the observer contemplate them freely. It's quite a wild and manifold collection of works on display here, by artists, designers and creators, both established and emerging. Names such as Alexander Lervik, Hanna Hansdotter, Per B Sundberg, Cara/Davide, Elakform, Fredrik Nielsen, Jone Kvie, Stefan Otto and many more spring forth. The employed materials are numerous – wood, glass, steel, textile, concrete, ceramic and porcelain – as are the techniques and styles. Moreover, there is an unusually large number of works on display, far more than in a traditional art or design exhibition. Seventy-six, to be precise. Clearly, 'less is more' doesn't apply here. It all feels invigorating, energetic and joyous. But then again, CREAM is no traditional gallery.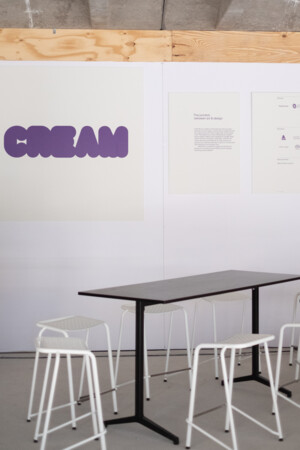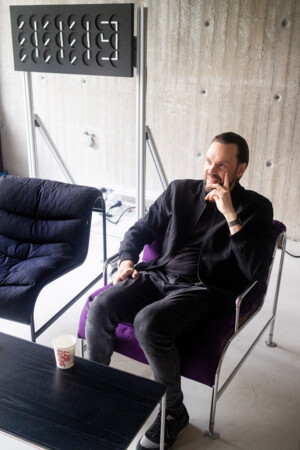 You've now launched CREAM. What is it, really? What do you aim to accomplish with it?
– It's a platform for working together with others in a freer, less constrained way. There are so many exciting things happening now, so we're aiming to relax the boundaries between contemporary art, design, and craft. We want people from the art world to discover craft and design, and vice versa. But we also want people to ask themselves questions about what they're looking at. What is this? Is it art or craft?
After touring the works, we sit down for a cup of coffee in a pair of colourful Sunny chairs from Lammhults.
Tell us about yourself. What's your backstory?
– Design and architecture. I studied interior design in Milan, where I was first turned on to contemporary art by a professor. She introduced me to Matthew Barney, among others. But at a certain point, we had a teacher who didn't know who Rem Koolhaas was, so I left and went to study at Chelsea College of Arts in London, instead.
That's why you left? (laughter)
– Partly, yes. (laughter) I was very inspired by Koolhaas ... I had a good time in London. It was freer. During a sabbatical, I worked in an antique shop and toured with a band. Afterward, I felt it was time to return to Stockholm. By then, I'd collected quite a lot of odd, modernist antiques, which I took back with me. And I got a place on Tegnérgatan.
I remember when you opened the gallery. What year was that? You showed a lot of street art, didn't you?
– It was 2006. When I arrived in Stockholm, my initial impression was that the art world here was pretty boring. I wanted to do something different. I also worked with artists like Makode Linde and Jesper Waldersten, and with a number of really great street-art artists. But I had to learn the art world here backwards. Nobody knew who I was. My brother and I had a club at Riche where I got acquainted with people who started coming to my openings. Eventually, everyone wanted to be there and do stuff. Vice Magazine and Rodeo, which were big at the time, did exhibitions and held parties in the gallery. Then, around 2012, I began to feel like it was time to start over. I wanted to work with more people than was possible while running a gallery and tending to my artists at the same time. The new direction began when I helped launch the Absolut Art project. It's kept flowing, ever since. Consulting is the cornerstone, but I also take on curatorial assignments. I work with both private individuals and companies, such as Electrolux, NCC, Björn Axén and Hufvudstaden.
The boundaries between art, design and craft used to be clearly drawn. The function of art was to have no function, while the role of design was to be purely functional. And craft existed to produce just that – craftsmanship, as opposed to something industrial. Today, the boundaries between the fields aren't so obvious. How do you see it?
– I think it comes and goes in waves. With Bauhaus, the disciplines were closely connected. And during the Renaissance, art was handicraft. And now, they're next-door to each other once again. It's more obvious when you go to fairs and biennials outside Sweden. There you find that art is more immersive and tactile. More holistic. That's what we want to highlight and emphasise. We want to get people to think and start questioning the definitions themselves.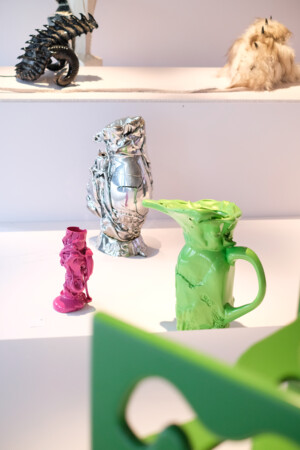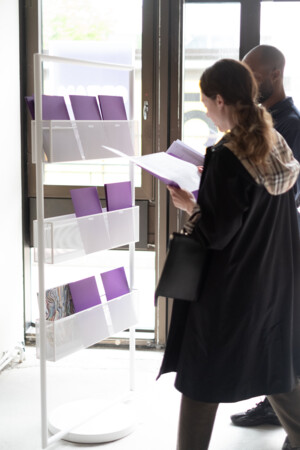 Are we living in a kind of renaissance today?
– Yes, there's a resemblance to the Renaissance. The 'old days' ended with the pandemic. We're living in a new era now. Everything's happening: web3, digital artists like Beeple and Yoshi Sodeoka, NFTs ... New art halls are opening everywhere. Since the pandemic, the galleries have significantly improved their digital presence, with online viewing rooms, viewable price lists, and even some online selling. The art market is no longer as safe a place as it once was. It's a fun time. With a lot of freedom, which has come from everything becoming available.
Is security a bad thing?
– Security is convenient and nice, but it doesn't get you anywhere. It's a dichotomy. Sweden is very safe. I felt that when I came back from London. The quality of life was very high. It's safe and a bit boring at the same time.
With the pandemic, one's home became one's workplace, and the workplace has taken on a different role. Instead of just being a place to work, it's become a place for creativity and social interaction, a way of building a culture. How do you see art and design being used to create more interesting environments?
– I think it's important that there are things that don't just slip past one's gaze. That applies not only to workplaces but to other environments, as well. I've been working a lot in restaurant and bar spaces, doing both temporary and permanent stuff. Like the newly refurbished East, for example, where I'm working with the artists Gfeller + Hellsgård. I think restaurants are really good environments for art because, there, the artwork is peripheral. You don't have to stand right in front of it and think about its meaning. Instead, you sit and enjoy a good dinner party — and let your eyes rest on the work for a little while. It's like a soft landing pad. Or you can see something more in it. The art becomes like a window to something else. You're relaxed and open, which is a good condition for experiencing art. I think it can work in a similar way in workplaces, where art can be part of one's day-to-day. When it comes to the corporate environment, I think it's important that there's a logic. That there's a connection to the space and to the business. It might be that the artwork somehow reflects a company narrative or, say, a material used in the building itself.
How was it to make an exhibition in a space like this?
– It was ideal for us to launch the CREAM project in this amazing brutalist setting. I had an idea about making sort of various islands or sections of works. Then Albert, the architect, came up with this stair-like solution for presenting the works. We wanted to use the opportunities given by the space. I'm happy with how the exhibition design follows the rhythm of the concrete ceiling beams.
We're sitting in chairs from Lammhults, a company that has been making well-designed and durable furniture in its mechanical workshop since the mid-20th century. The company's design hallmark is the curved steel tube, like the ones in these chairs. What do you think the role of a company like Lammhults will be going forward?
– I think it's a bit like food. Nowadays, people are happy to pay a handsome price for a really good cut of meat, and go shopping less often in exchange. Likewise, we want to buy good Swedish furniture. I've always been against the IKEA thing. When I was in London, I had a club called Anti-IKEA. To be eligible to join, you couldn't have a single IKEA item in your home. Both they and H&M are trying to make themselves relevant today, while at the same time being all about the throw-away culture. I think people want to spend money on things that are well-designed, durable and locally produced. By the way, my partner loves these chairs. She wants us to buy them. Gunilla Allard and Note, right? I think Lammhults should do more collaborations like this. Merging classic and new.
Read more about CREAM: www.cream-objects.com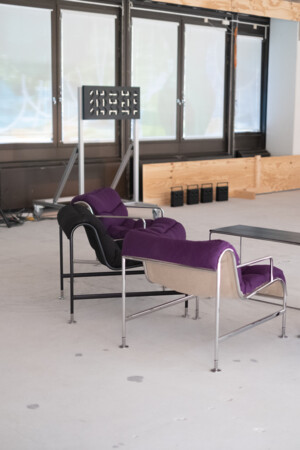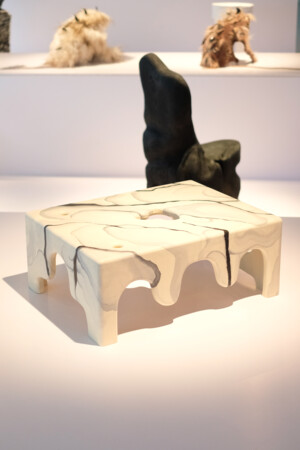 Photo: Fiona Braun
Journalist: Jens Soneryd