Award-winning Ponto table by Troels Grum-Schwensen has the possibility to win yet another award, now in the 15th edition of GRANDS PRIX DU DESIGN. The table recently received a Gold Certification in the discipline "Product" and Category "Industrial Design / Furniture - Contract & Institutional".
The GRANDS PRIX DU DESIGN Awards celebrates excellence, the creative talent of professionals and the clients who put their trust in them.
Projects and products granted a Gold certification become eligible finalists for Platinum, Grand Winner and awards of the Year titles. The winners will be announced, at one of two Gala evenings scheduled for September 16, 2022 in Québec City and October 12, 2022 in Montreal.
Ponto table, designed by Troels Grum-Schwensen in 2019, has already been awarded several awards for its ingenious design built on the same innovative construction as Attach table by the same designer. Both table-systems use gravity to lock the legs to the strong aluminium-beam, allowing free leg-positioning, tool-free leg-mounting, impressively long tables with only 4 legs and easy separation of the materials after its lifespan.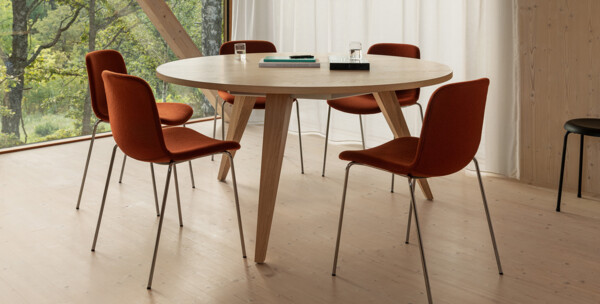 Earlier prizes include:
A Design Award - Winner - Silver 2021
SIT Furniture Design Award - Winner- 2020
Architecure Master Prize - Best of Best - Product 2020
IDA Design Awards - Silver Winner 2020
European Product Design Award 2019
Muse Design Award - Platinum Winner 2019
Ponto table is 'exclusivity and simplicity' defined, where every detail breathes both the designer's and Lammhults' sense of innovation and quality. Ponto is the table that allows modern technology to meet solid craftsmanship. The legs of Ponto are made of carefully selected solid wood that is milled to fit the aluminum profiles that support the entire table. Nothing on Ponto is unnecessary, with a maximum length of 558 cm, only four legs and table surfaces are all that is needed. No more no less, together they are whole and that is remarkable in its simplicity. Assembly is quick, by sliding the leg onto the aluminum profile to the desired position. The pyramid-shaped legs, inclining in two directions, adds stability and character to Ponto, which has got its name from the bridge-like appearance coming from those inclined legs and the long span in between them.