This year's Lammhults Scholarship winner opens the door to sneaker aesthetics. The 2022 Lammhults Scholarship in collaboration with Ung Svensk Form goes to Gustav Winsth. With his idiosyncratic Dio shelving unit, Winsth has pushed the boundaries of contemporary design while exploring how furniture can be produced sustainably and responsibly.
Ung Svensk Form is a project that promotes the development of innovative, new Swedish design. Lammhults has collaborated with Ung Svensk Form since 2020. "We are proud to contribute to Ung Svensk Form's important work," says Carolina Ericsson at Lammhults. For the third year in a row Lammhults contributes in Ung Svensk Form giving a scholarship to an upcoming designer/artist. "We're tremendously delighted to award the scholarship to Gustav Winsth. His work is highly expressive and challenges prevailing ideals of style. At the same time, he's uncompromising when it comes to sustainability," says Carolina Ericsson.
As a Lammhults scholarship holder, Gustav Winsth will be given the chance to immerse himself in a project within the real-world circumstances of a contemporary furniture company, both in terms of its opportunities and its challenges. Meanwhile, what does Lammhults gain from the scholarships it offers?
"We've just had an initial meeting with Gustav. It's great to have a designer on board who challenges convention and really surprises — not least in the way he works with materials. One of the main benefits for us as a company in our encounters with scholarship holders is being confronted with, and challenged by, new ways of looking at materials and product development. It'll be really fascinating to see what happens in the process that lies ahead. The resulting product will be exhibited in December in Lammhults' showroom in Stockholm," says Krister Jonsson, product development manager at Lammhults.
We will follow Gustav´s time together with Lammhults in a series of three parts. First out is a presentation of Gustav and his scholarship winning entry Dio.
In designing Dio, Winsth took inspiration from a diversity of sources: various production techniques, pop art, branded retail environments, postmodernism's questioning of modernist precepts, and one of street culture's most potent emblems — the sneaker. Much like the soles of a pair of sneakers, Dio's tantalizingly outsized base is its most striking style element.
Why sneakers?
"Because they send a powerful subcultural statement and signal. A sneaker communicates what you're into and who you are. I wanted to create a piece of furniture in the same way. I'm a sneaker nerd myself. I can fall in love with a pair without really knowing why. I wanted to explore that, so I could transfer the expressiveness of sneakers to my own work," explains Winsth.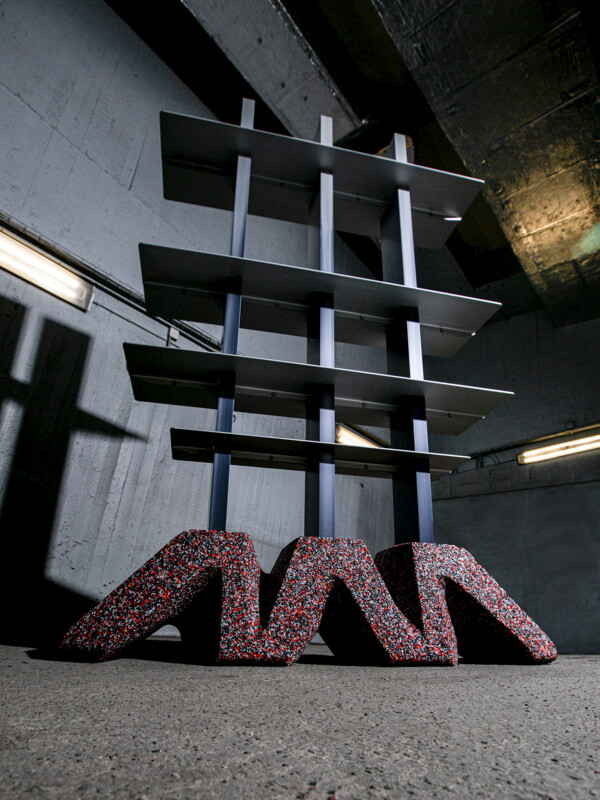 You talk about breaking with modernism. What have you got against it?
"I'm not against modernism, but I think there's a need for more happiness and playfulness than today's minimalism and less-is-more aesthetics can offer," explains Winsth. "A home should have iconic pieces that provide contrast and express personality in the same way that a shop interior needs branded items to create identity. Something that states what you're about and doesn't just conform. My biggest sources of inspiration are Ettore Sottsass and the Memphis Group. Sottsass once made a great remark after David Bowie had purchased an entire interior from them. He said that furnishing a space with only Memphis Group pieces was like eating only cake: One piece is enough. What I want to focus on as a designer is that one piece of cake. The dessert of minimalism."
Sustainability is a basic design requirement for Winsth — which might seem irreconcilable with the kind of maximalism that interests him. In fact, it was the great challenge of his Dio project. Winsth found his solution in recycled rubber granulate:
"It has incredibly wonderful, raw tactile properties and it's highly malleable. You can create really exciting geometric shapes with it. It's a material I'd love to continue exploring with the help of the Lammhults Scholarship," adds Winsth. "It's fantastic to have received the award from Lammhults. It's a company that's serious about sustainability."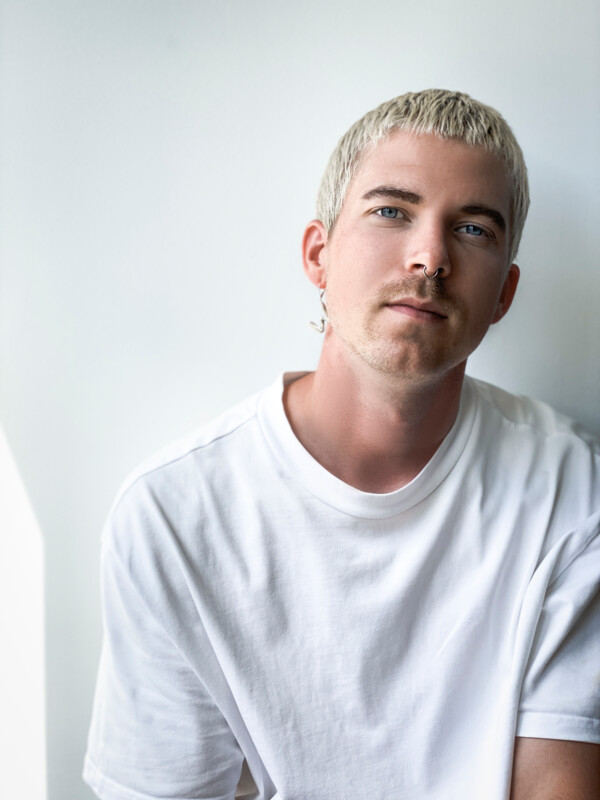 What's the story behind the name Dio?
"My partner was pregnant during my degree project. Dio was our 'working name' for the baby — after Ronnie James Dio, the legendary heavy metal singer. Then it turned out that our baby wasn't a Dio but a Bob. So, the shelving piece was named Dio, instead," explains Winsth.
In two weeks, Gustav Winsth will travel to Lammhults to tour the factory. "I'm tempted to continue exploring rubber granulate, but I want to get acquainted with the manufacturing process and grasp its preconditions and parameters before I make up my mind. That's how I want to do it — just let the parameters inspire the project."
Learn more about Ung Svensk Form
Learn more about Gustav Winsth