We met up with interior designers Helena Eliason and Lisa Grape from Joyn on a rainy Friday in Stockholm. Our chat touched on a wide range of topics — the importance of atmosphere, the value of collaboration, washable walls, escapism, tactility, and the contributions interior design and design, in general, can make in times like ours.
Helena and Lisa have been running Joyn Studio, together with Ida Wanler, since 2016. Today, the company includes a staff of eleven employees and works with both Swedish and overseas clients. Joyn is located in beautiful 1920s industrial premises on Södermalm, an island district of central Stockholm. The room where we met bears visible traces of other times and activities – sloped Carrera marble windowsills, and wall tiling that needed to be liberated from many layers of paint. "It's rumoured that there was once a bakery here, but we don't know for sure," says Helena, as we sit down at a round table in X75 chairs from Lammhults.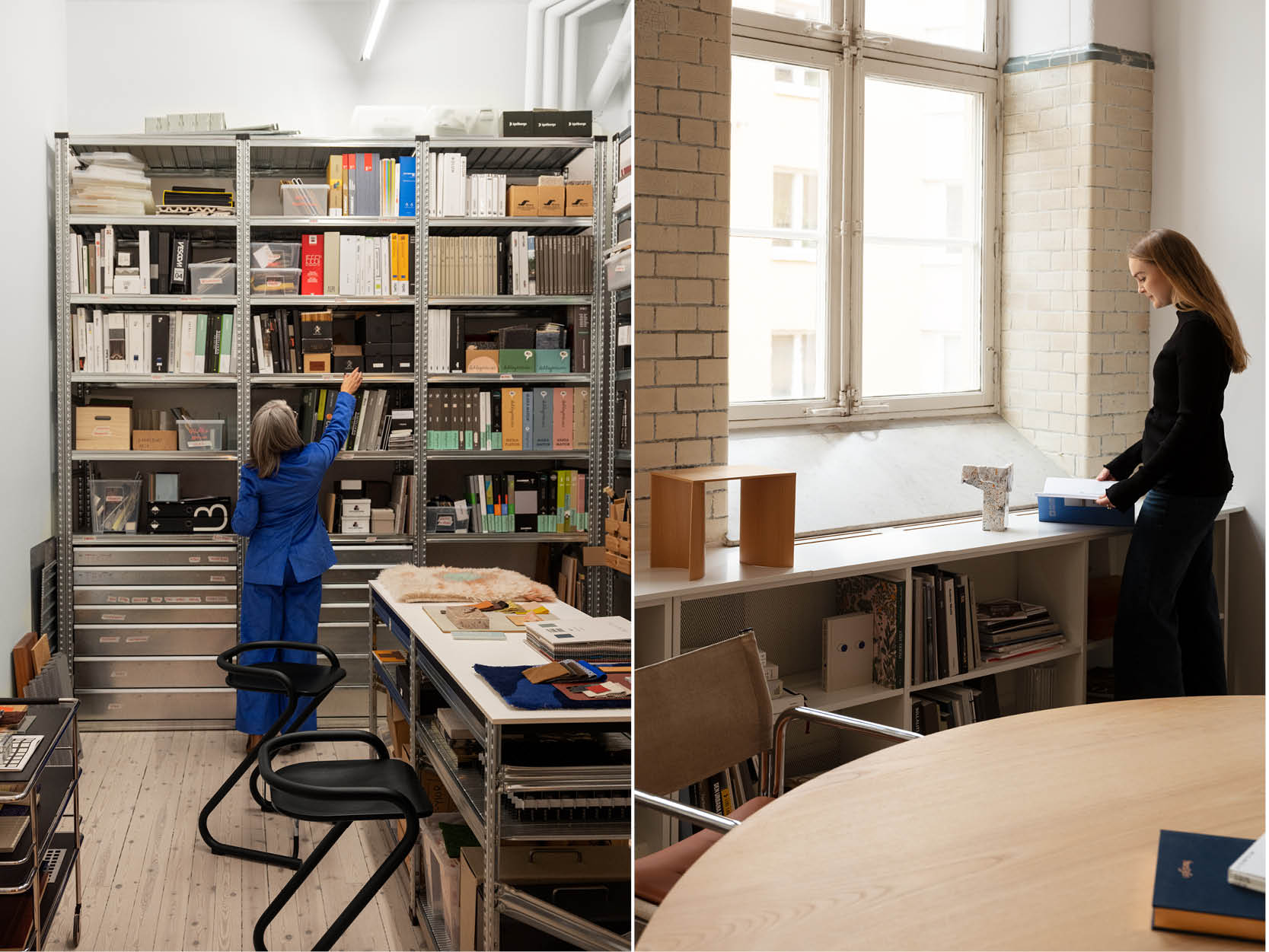 More and more of Joyns clients are from abroad. They've been working on projects in the U.S. and Dubai and they designed the Studio Frantzén restaurant on the fifth floor of London's Harrods department store. The project is a well-directed total experience that aptly expresses Joyn's interior design philosophy. It combines Björn Frantzén's gastronomic concepts with Swedish design, craftsmanship and contemporary art. The restaurant's interior design features ceiling artwork by Ragnar Persson, lighting by Front design, intarsia wood inlays by Klara Knutsson, and glass objects by Carl Cyrén.
"With Harrods, we were able to do just what we wanted. Interior designers are a bit like curators. When you work with people you really respect and appreciate, it motivates you to raise your own bar ... so everyone's proud to be part of the project," remarks Lisa.
Tell us a bit about the shoot you did with Lammhults.
"Lammhults got in touch with us asking for access to our space, which was awesome. Collaboration is in of our DNA and Lammhults is part of Swedish design history. Börge Lindau and Bo Lindekrantz have created amazing things for them. And we've used Gunilla Allard's furniture a lot," says Lisa.
"Anya Sebton has also designed a lot of really great things for them," adds Helena. "At the same time, though, Lammhults obviously keeps evolving. With Sunny, which Note and Allard collaborated on, and Peter Andersson's easy chair, it feels a bit as though the brand has been reborn."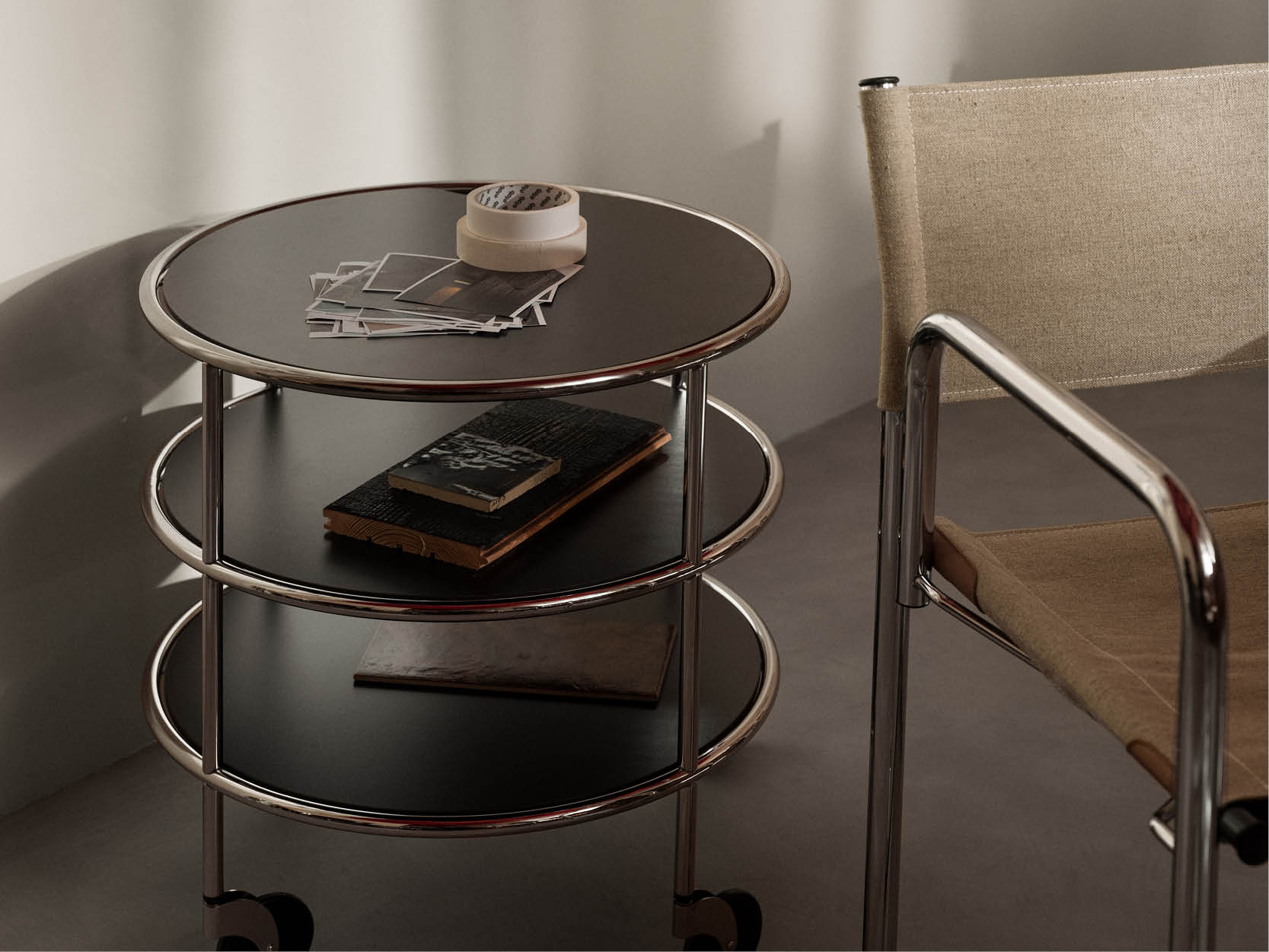 What's your core concept as interior designers?
"We're just really into putting people in the right mood ... raising their spirits. We start by thinking about the experience itself ... how it needs to be staged. That's the starting point ... kind of like imagining how you'd put on a ball in a castle. It's what makes this job so much fun. We think about what the ball will be like, and then we create an entire atmosphere around that idea. And, finally, all of a sudden, there's our ball in a castle," Lisa explains.
"This aim of trying to put people in a positive mood is something we've taken a step further. It's the key thing for us ... rather than coming up with any particular style or mannerism," says Helena.
How do you reach a consensus with your clients about what kind of mood to create?
"At the beginning of the project, we work on developing a common vision with them. It's not unusual for us to start by creating a mood board, which can be quite abstract. And we'll set music to it to help define the feeling. I mean, everyone can relate to music," says Lisa.
"It's hard to explain to a client what we're aiming for by simply presenting a floor plan," adds Helena. "But music clarifies the message. There's a difference between it feeling like Anna Ternheim or like Iron Maiden."
"The clients who we're doing a project for in the U.S. were really curious about our playlist. And they approached us with movie references ... Woody Allen's Midnight in Paris. It's supposed to feel like Gertrude Stein's apartment. It's way more inspiring to work like that than simply referencing existing interior designs to communicate what the space should look like," says Lisa.
"Plus, the result is much more unique," adds Helena. "If you spend too much time looking at other interiors, you risk creating really similar environments. For a while, you saw a lot of designs with a very New York feel ... you know, white tiles and a brick wall somewhere."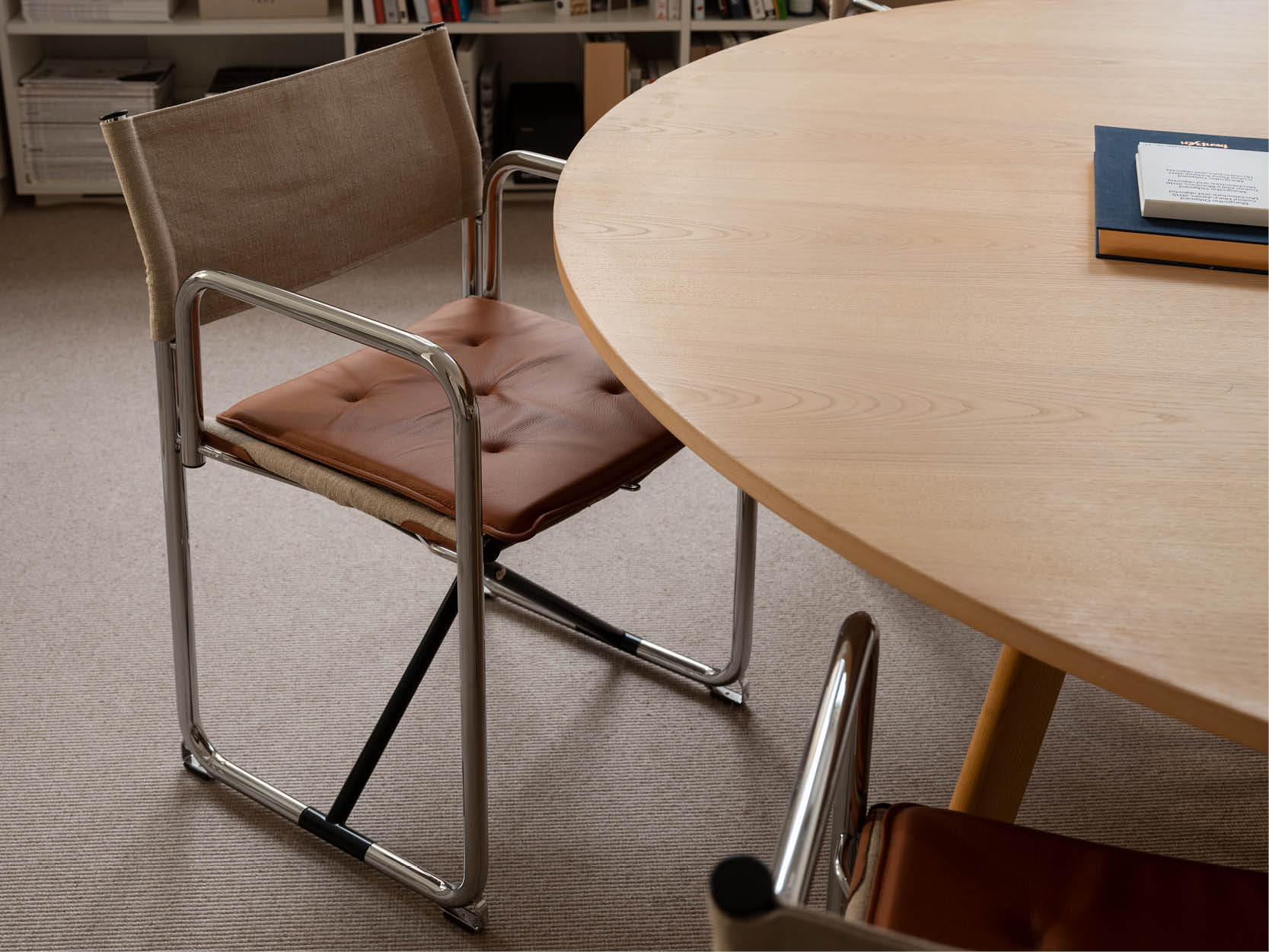 Your work comes across as very tactile.
"We're real geeks when it comes to materials," replies Lisa, as she grabs an oyster shell from amongst material samples on a workbench. It might be that a sheen is needed ... like the inside of an oyster shell ... or maybe a matte surface. It's fun working with materials and understanding their qualities and properties. What would a metal add? How would that black paint affect the mood? Would it make the room feel smaller or, just the opposite, create the impression of a midnight sky?"
"Simply grasping and touching different materials also helps the client understand the intended experience better. People can also experience different materials differently, depending on their cultural background. Something that feels ultra-luxurious to some may be ordinary to others," explains Helena.
"At Harrods, we created a feeling of luxury through uniqueness and detail," Lisa adds. "Luxury wasn't gold and Swarovski crystals in that case but genuine, natural materials ... a selection of woods and stone from Bohuslän or Gotland."
There's a vibrant diversity about your interiors that makes them feel generous and alive.
"Diversity is important! Things shouldn't match too much. There has to be something jarring for it to be really beautiful. If we're talking trends, interior designers are daring to mix a lot more than they used to. Post-modernism is back," remarks Lisa.
"Since we were studying at Konstfack, interior design has become more permissive," adds Helena. "A bit like the fashion world. And several different trends can run in parallel."
You say you aim to put people in a positive mood. Is there too little of that atmosphere these days?
"In our business, there's been too much 'tastefulness' and not enough grasping the objective. It's fine to be faithful to a design language, but you can never forget that people are supposed to enjoy being in a room. That's where atmosphere is extremely important. You want to be able to step into that room and be moved by it," remarks Helena.
"It's also been an era of rationality. An awful lot of it," adds Lisa. "Everything has to fit into spreadsheets and be measurable. But we're also supposed to feel something emotionally. That's become more important lately. It's both good and bad that everyone's walking around 'feeling' all the time. I think we're in an era that's very emotionally driven. In that sense, we're a reflection of our time."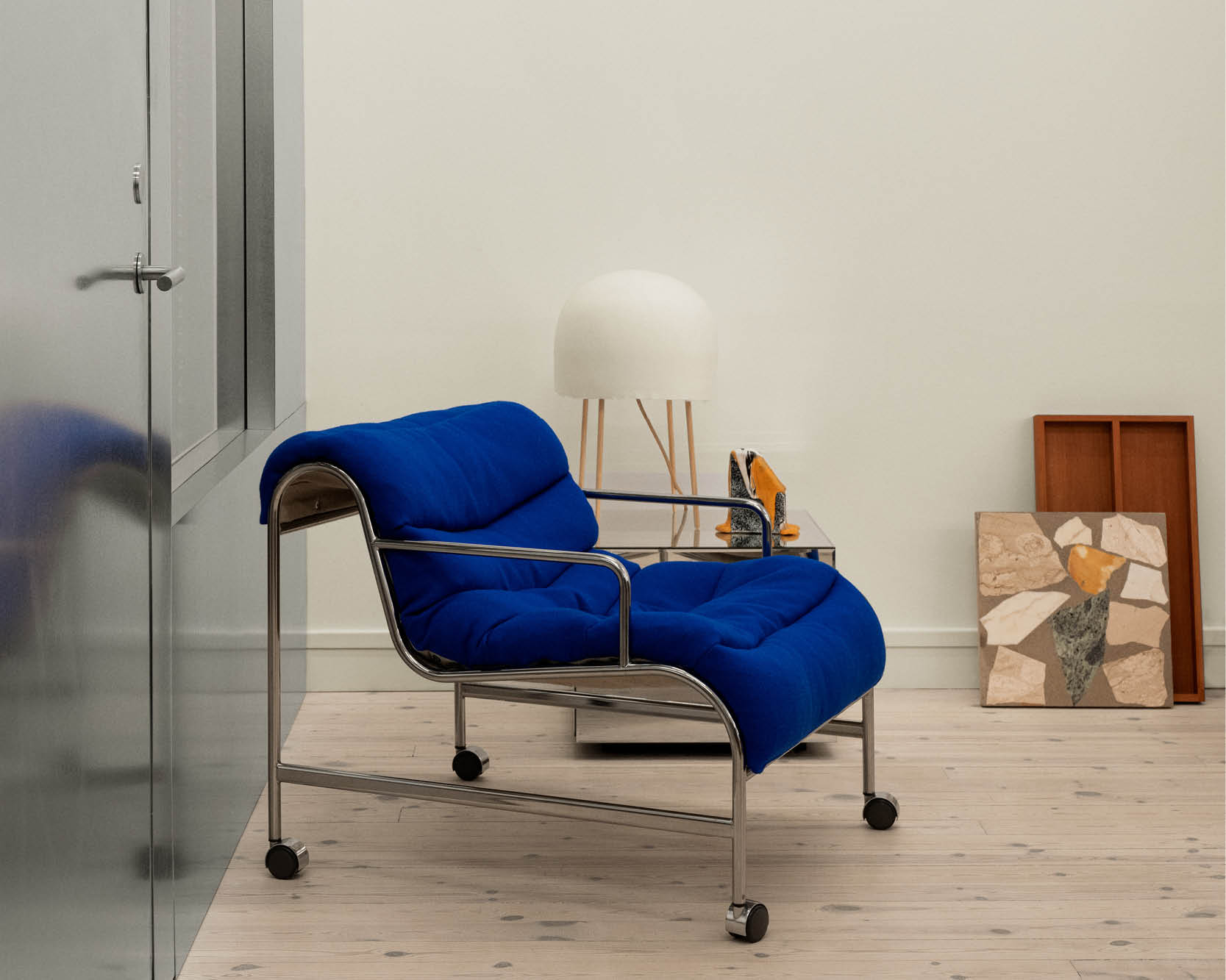 The aims and aspirations of architecture and design have varied quite a lot throughout history. There's been everything from celebrating pure functionality to formulating utopias and inciting rebellion. What's the most important task today?
"It's maybe the case that the grand visions and rebellious designs have become something else," replied Lisa. "In tough times like ours, it feels more important to make things that are sympathetic, poetic and fun."
That sounds a bit escapist ...
"Oh yeah, what we're doing ... putting people in a positive mood ... is absolutely escapism. There's a need for it, now. But I'll sign off on that," laughs Lisa. "We're definitely escapists!"
Maybe it's more important than we think. Could it be that positive, sympathetic surroundings sway people to be a little more caring?
"I certainly think that if you put care into something, it's treated with more respect. And certain types of materials encourage people to be more caring," says Helena. "I think so, too," continues Lisa. "And the reverse is also true. If you create a space with washable walls, people will behave accordingly ..."
"We also think it's really important to create environments that last over time. By that, I don't just mean the materials," Helena explains. "It has to become something that the client will really want to have and keep, so they don't end up replacing everything a year later."
Not everyone can afford to hire an interior designer, of course. What advice do you have for people who want to change their surroundings themselves?
"Don't get rid of the things you already have," answers Helena. "You can mix your grandma's old mirror with a Lammhults steel tube chair or something ultra-modern. And if you're thinking about mood or atmosphere, it doesn't need to be about buying new stuff. Change doesn't have to mean consumption."

Text: Jens Soneryd
Photo: Erik Lefvander