The designer behind our acclaimed Corso easy chair talks about his collaboration with Lammhults and his approach to design.
"Good design is something you can put up with on a rainy Monday morning. "

Portrait of designer Peter Andersson
What's your earliest memory of Lammhults?
During your first year at Konstfack, you do a so-called furniture trip. This involves the students visiting producers for them to get a picture of how the industry works and how things get done and made. It was probably in the spring of '95 that we did our trip. I remember being very well received at Lammhults! They explained the company's history and showed us their production facilities. It was an exciting new world but also one that was quite familiar to me because a big part of my upbringing had been the surroundings of my dad's mechanical workshop. It was also where I took my first tentative steps as a furniture designer, welding together scrap steel pipes I found in the backyard. The smell of welding fumes and steel at Lammhults made an impression on me.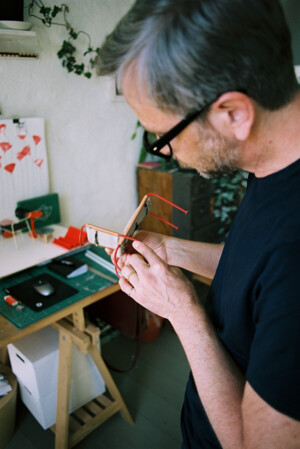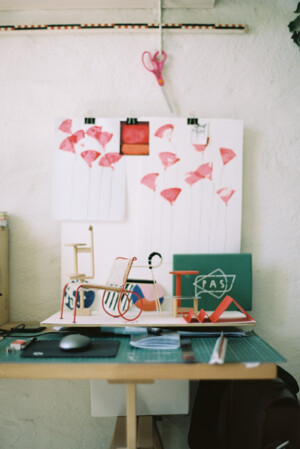 Tell us about your collaboration with Lammhults.
It's a lot of fun – and an honour – to work with a company that's played such an incredibly big role in the history of Swedish furniture design. And in my own history, for that matter. At Lammhults, they're genuinely interested in developing high-quality products, both in terms of their design and construction. And that interest comes with enormous know-how. It's not easy to make Lammhults happy. You have to work very hard. And that's a really good thing. I'm very pleased to have developed Corso for Lammhults. It's a piece of furniture that feels new and unexpected while being completely at home in the Lammhults product portfolio. Corso bears traces of both my own and Lammhults' history. In 1995, I and some fellow students at Konstfack did a summer project at Lammhults, during which we designed furniture that Lammhults then helped us realise over the course of a week. The prototype maker who assisted us was Tommy. Twenty-seven years later, it was Tommy who helped with the steelwork on Corso. It felt a bit like being thrown back in time, because I'd also designed an armchair on the first occasion, 27 years earlier. I think its steel pipes even had the same dimensions.
Do you have a special place that's important to you for your creative work?
I bring my creative space with me wherever I go, really. I don't rely on any one location to get ideas. On the other hand, I'm inspired by certain places or 'stations'. I have a studio and model workshop in my home in Stockholm. And there's a studio and a workshop in the house in Österlen. It's great fun working with full-scale experiments there. I think these physical spaces are important for me to define myself and what I do. But, as for designing, a pencil and paper are enough, really. The idea behind Corso came to me while I was sitting on a terrace with a coffee, a cardamom bun and a sketchpad. By the way, a magpie stole the cardamom bun just as I was doing my doodle!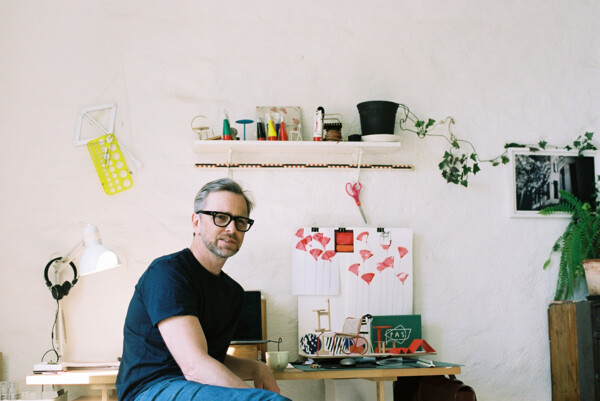 What do you think makes good design?
Things that tell a story; that, to me, feel relevant to, and interesting in the context of, our time. Good design is something you can put up with on a rainy Monday morning.
What do you think your long-term role is as a designer?
My goal is to work with the industry to make what we do more sustainable. That includes carefully considering every choice of material. Just as important as looking forward in search of new materials is looking backwards to find tried and true natural materials that have been used for hundreds or even thousands of years. In the case of Corso, for example, we used linen textile in its support structure, a durable renewable material that's been part of people's daily lives for thousands of years.
What characterises your design?
My design is always contextual and usually pragmatic. When I'm designing a piece of furniture, I always have an imaginary or real space in mind. I see spaces as scenes where different events unfold. The furniture becomes a kind of prop that helps frame what's happening. In the design phase itself, I usually tell myself to make the ordinary less ordinary. Taking an ordinary standard steel pipe and shaping it in a new way is one example.
What inspires you?
I am inspired by my family, springtime and humble people with great expertise and knowledge.
What's your best advice for aspiring furniture designers?
To always have a plan A, B and C. At the very least.
Photo: Fredrik Andersson Andersson
Journalist: Jens Soneryd