On December 2nd, Lammhults and Kvadrat will open the doors to their showrooms in Stockholm for a joint exhibition evening with the work of Lammhults scholarship holder Anton Kreü and the Kvadrat scholarship winner Alexandra Friberg. Both were selected among the entries in Ung Svensk Form 2021.
The result of these scholarships are two exhibitions permeated by optimism. Both Anton Kreü and Alexandra Friberg actively involved in the issue of sustainability. At the same time, they approach it based on completely different creative starting points and temperaments.
Ung Svensk Form is an annual award and traveling exhibition with the ambition to increase awareness of innovative, young Swedish design; helping it reach new audiences.
In February 2021 Anton Kreü received the Lammhults scholarship in Ung Svensk Form for his project Elements of Wasteland, where he tackles the material that has come to embody the ecological crisis: plastic.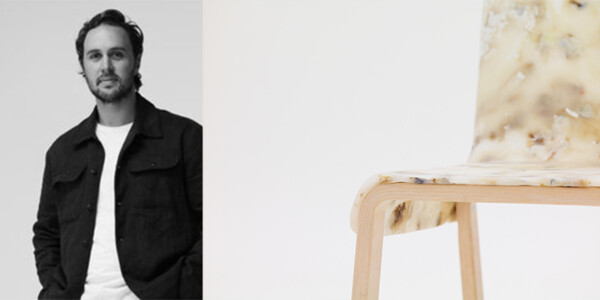 "Only 10% of the plastic waste produced each year is recycled. Millions of tons of plastic waste end up in our oceans every year. We handle plastic completely wrong. ", says Anton Kreü, who in his project creates a positive environmental impact by taking advantage of plastic waste collected along the Swedish west coast.
With the project, which resulted in a chair with a seat made of recycled plastic, he wants to inspire both producers and consumers to see plastic as a desirable asset instead of rubbish.
Now he is exhibiting the result of the project he has been working on for Lammhults since he got the scholarship. Gracil - a side table with simple and elegant design language that is available in three designs. The table is made of bent steel tubes with a table top made of recycled plastic. It is no coincidence that the design language is related to other furniture from Lammhults: "The collaboration with Lammhults has been incredibly good. They have been very open. I have worked in dialogue with them, based on their specifications and guidelines. It's more fun to work together! "
"Sustainability is by far the most important issue for us as a furniture company today. We believe that design has great potential to contribute to the transition to a sustainable society. Ung Svensk Form plays an important role in showing the energy that is needed and that is actually also present in young designers. We are inspired by the optimism and drive of Anton Kreü. Therefore, it was very fun for us to give the scholarship to him ", says Åsa van Drumpt, Lammhults.
Karin Wiberg is project manager for Ung Svensk Form - an annual award and traveling exhibition with the ambition to increase awareness of innovative, young design. "We see ourselves as a bridge between education and the harsh reality. For us, Lammhult's and Kvadrat's scholarships are ultimate. There is room here for both the visionary, the free exploration, and real challenges. It gives momentum to the companies and the designers get a boost, " she says.
Welcome to Lammhults & Kvadrats Scholarship Evening 2/12
16.30: Lammhults, Adolf Fredriks Kyrkogata 15. Talks, drinks, snacks and presentation of Anton Kreü's project.
18.15: Kvadrat, Åsögatan 118. Alexandra Friberg presents her project. Afterwards, mingling, food and drink are offered.
RSVP no later than 26/11 to event@lammhults.se
The exhibitions run until 28/1, 2022.