Swedish design company Lammhults ́ successful chair series Campus is celebrating its 25th anniversary. Designed by Danish designer duo Johannes Foersom & Peter Hiort-Lorenzen in 1992, Campus is still the number one bestseller through-out company history and has paved the way for Lammhults internationally with its over 1 million sold units.
The Campus chair was launched in 1992 and became an instant success. The design brief was clear: create a functional affordable volume chair for the international contract market. The response was Campus, a technical and aesthetic success, at home and abroad.
Campus stands apart from all of its predecessors for one unique aspect: its dual identity. A single, solo Campus chair is perfect in the simplicity of its design. But Campus has a parallel identity. The designers Johannes Foersom & Peter Hiort-Lorenzen explain: "The focus with Campus was always on all the requirements for places where you need a lot of chairs in the same place." In large quantities the waveshaped backs form an undulating ensemble. The innovative back mounting, with no visible fittings, is a beautiful detail that gives character to the chair.
The molded seat and back in wood veneer and the simple steel tube frame is available in several different options and colours. As a chair and armchair, with upholstered seat and a fully upholstered, with four legs or sled base. In 2010 Campus Air, a plastic version of the chair, was launched. As the name implies the chair can also be supplied with a frame for outdoor use. Campus stacks; Campus links; Campus can be managed easily with its trolley. Campus complements conference, office, institutional and residential settings with its quiet capable style.
The Campus chair was the product that put Lammhults on the international market and can, among many other places around the world be found at Bridge Art & Sience College, Doha, Qatar; Royal Academy of Fine Arts, Copenhagen, Denmark; BMWs factory, Regensburg, Germany and Kogahuin University, Tokyo, Japan.
"Campus is an excellent example of what Lammhults stands for, clear functionality and timelessness along with high quality"
Ulrika Johansson Ståhl, MD at Lammhults
To highlight this icon ́s 25 years on the market Lammhults asked the designers to make an anniversary limited edition of the chair. This resulted in 50 numbered chairs, 25 pces per designer, where the seat and back have been carefully grinded to create rounder edges and lacquered in black high-gloss coating. Also the thin steel tube frame is powder coated in black highgloss colour, creating a monochrome silhouette.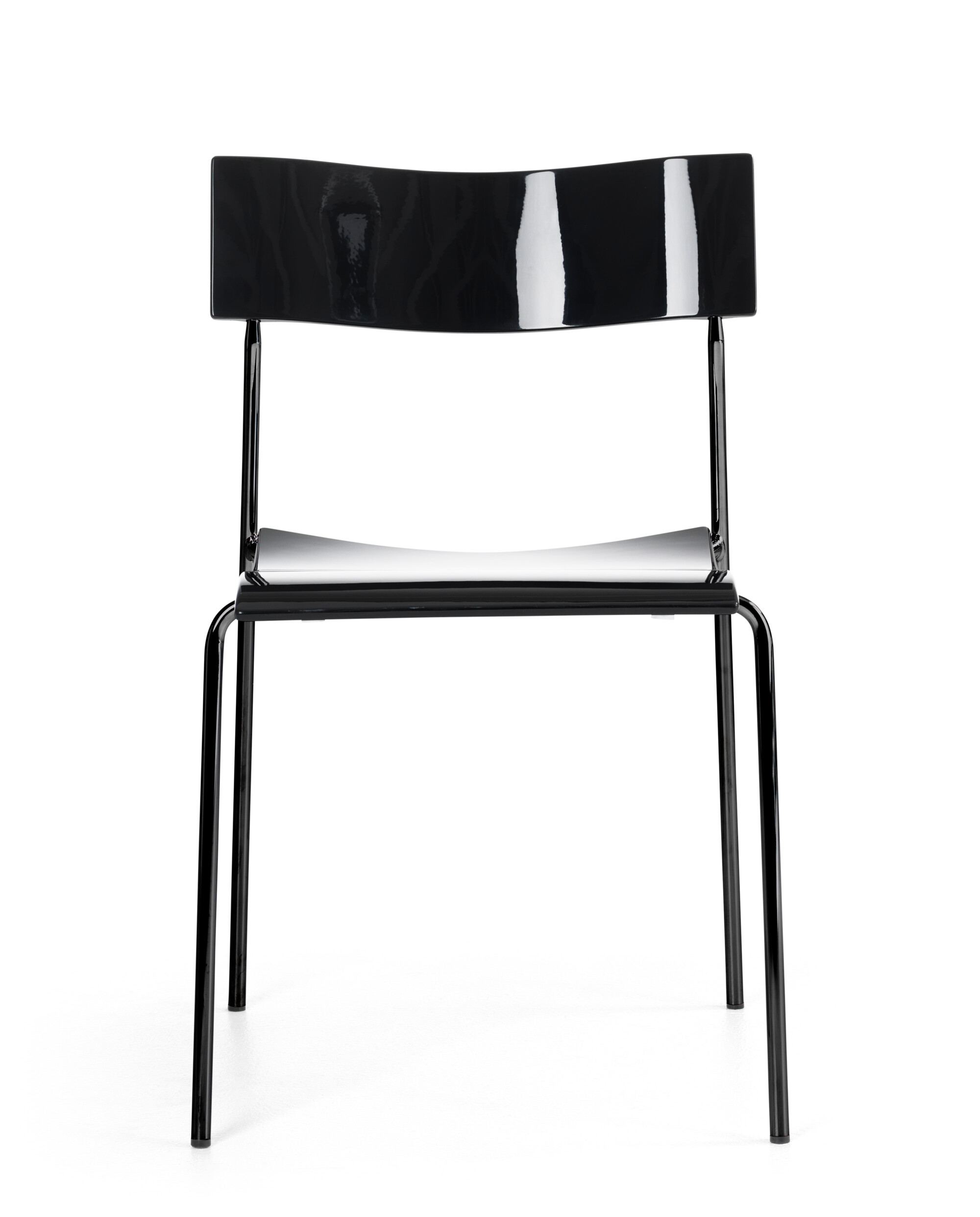 "For 25 years, Campus has served everyday use and been a symbol of the low-key aesthetic that characterizes Scandinavian democratic design. On this occasion we have provided Campus with an evening wear, showing the subtle strength and authority it has as an icon. A graphic sketch – all in black – resembling a silhouette or a musical instrument playing a fanfare. A small gift from Lammhults and us."
Designers Johannes Foersom & Peter Hiort-Lorenzen about their anniversary edition of Campus
Also in association with Campus chair ́s 25th anniversary Swedish fashion label HOPE Stockholm was asked to make their version of Campus. The result – a sturdier feel using a larger frame dimension and letting the industrial meet the natural in the form of a soft removable sheep plaid. The orange striped upholstery hints about the 70 ́s, when not only furniture but also our minds were softer. HOPE wanted to bring the mainly in public used Campus into the private home.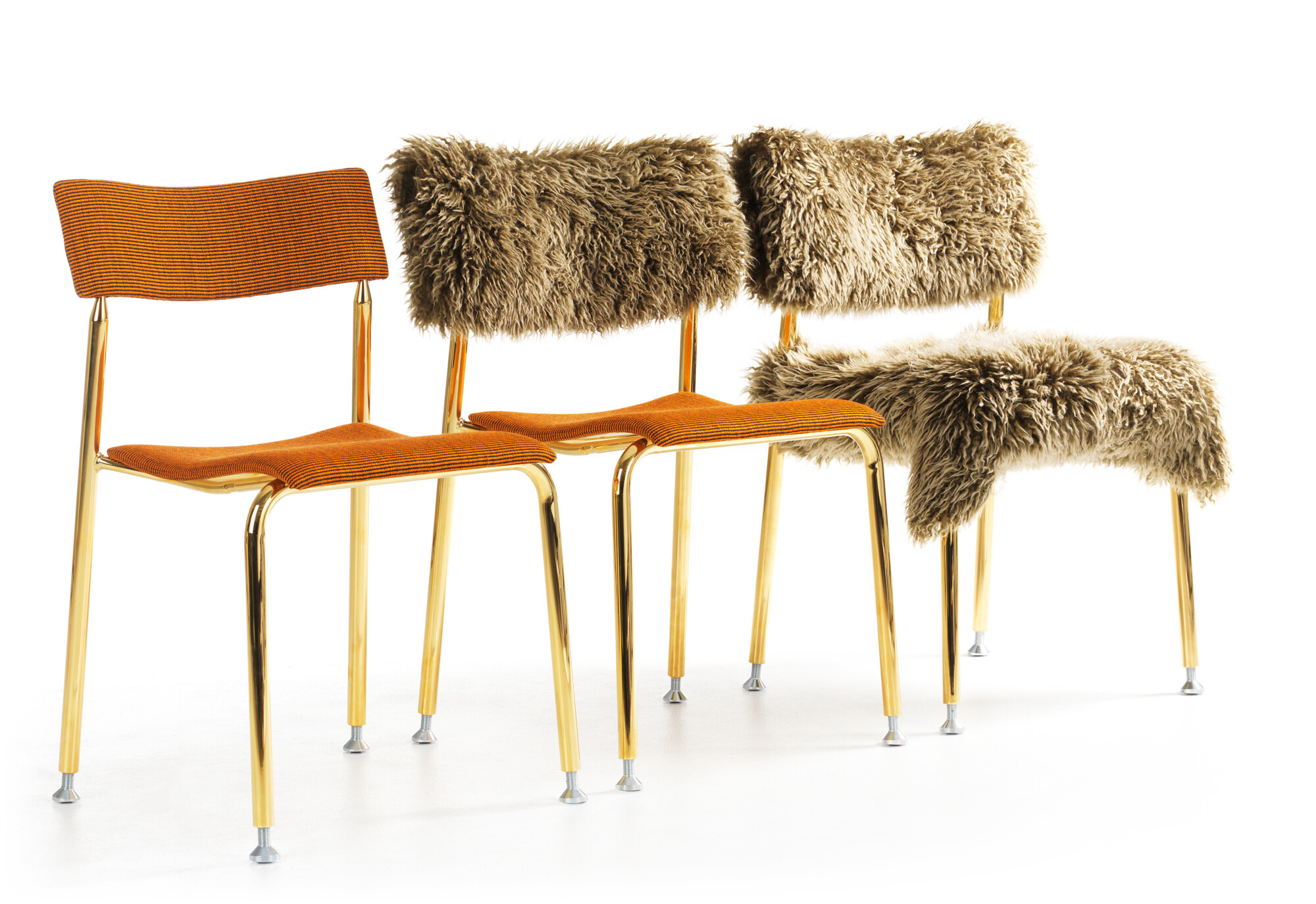 The 24 carat gold plated frame serves to further play with opposites and contrasts. Photographer Mikael Olsson has captured
HOPEs concept 'Elevated Realism' which, in an elevated and appealing manner, aims to reflect authenticity and human presence in the photos.
Design Manager Frida Bard at Hope Stockholm explains: "As Campus turns 25 years our goal has been to focus on a younger audience. We wanted to make people of the same age as Campus to feel appealed to the chair."
Both the original designers high-gloss anniversary edition and Hope Stockholms interpretation of Campus will be displayed at Salone Internazionale del Mobile in Milan, during April 4-9.
FOR MORE PICTURES GO TO CAMPUS 25th ANNIVERSARY
For more information about Lammhults or images, please contact:
Carolina Ericsson, Marketing Coordinator
+46 472 26 95 29
cer@lammhults.se
Ulrika Johansson-Ståhl, MD
+46 708 83 87 75
ujs@lammhults.se
Lammhults develops and markets modern furniture of international design for companies with high demands on quality and design. We cooperate with some of the leading contemporary furniture designers. What we accomplish together shall be elegant, effective and eco-friendly. Lammhults is part of Lammhults Design Group.